Ford prove that Puma's can ROAR! – Ford Puma Review
5 Second Review
Ford prove that Pumas can ROAR! The all new Ford Puma has leaped into 2020 winning Whatcar 'Car of The Year' while preying on a wide audience. The 'Ford Puma' has adapted to combat climate change, introducing engines featuring a 48-volt mild hybrid system, while retaining its original featured lights from 1997.
History
Ford originally launched the Puma in 1997. The much-loved coupe also won Whatcar 'Car of The Year'. After almost 20 years, Ford have redesigned and launched yet another jaw dropping statement. Cornering what Ford calls an 'SUV-inspired Crossover' market. The all new redesigned Puma has ripping technology, diversity, functionality, while still retaining some key features from the 90's.
Both Puma models were and are based around Fiesta engineering however gripping dynamic changes have been made, improving the drive quality of the New Puma.
Featuring –
New settings for electronic power steering
A firmer attachment for the beam axle
Five-stud hubs, for a more robust fixture for the wheels
All features are to enhance handling and become more responsive, giving Ford an edge over their competitors such as the Nissan Juke and Renault Captur.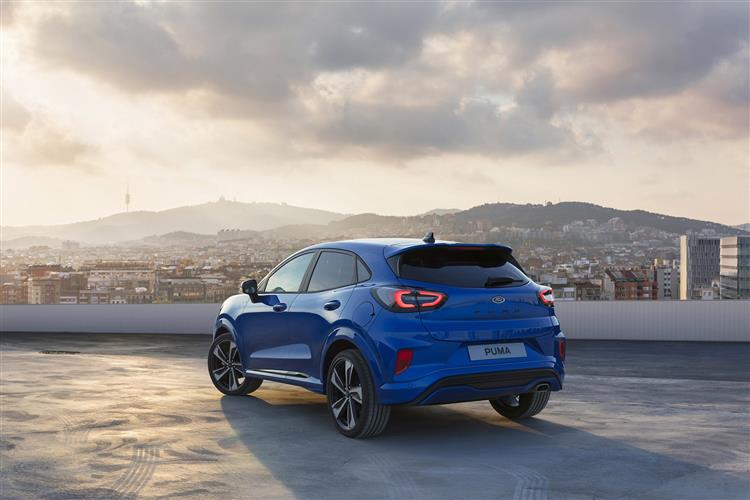 Engines and Tech Spec
Ford offer both Petrol and MHEV Hybrid/petrol engines. All engines are 1.0Litre offering 125ps and 155ps for a more powerful drive, attracting a 7 speed dual clutch auto gearbox, with mild hybrid technology. The all new Ford Puma innovation originates from the 1.0Litre EcoBoost petrol engine and has been adapted to produce Fords latest MHEV. The alternator is replaced with an 11.5Kw integrated starter/generator which Ford call 'BISG'. The technology is designed to restore energy within a small lithium-ion battery when coasting or braking; or assist when accelerating which has proven to be very responsive.
We've heard Ford are due to launch an alternative engine to join the 125ps and 155ps MHEV. Rumour has it, the 1.5 litre engine will satisfy diesel enthusiasts.
Size and Comfort
Times have changed since the original Puma took the market by storm back in 1997. Ford certainly listened to their audience. Increasing the size and capturing the Crossover/SUV market while basing the model off the nation's most popular car of years, the Fiesta. Ford offer in addition to the Fiesta, an extra 95mm in wheelbase length. The all New Puma stands 54mm higher than the original 1997 Puma. So, what can you expect from the additional space offered? Looking for more boot space? Look no further. The Puma offers 3 adjustable depths that can be tailored to all requirements. Our personal favourite, the boot also includes a plug for drainage to easily clean any dirt, dog hair or soil. Bath anyone?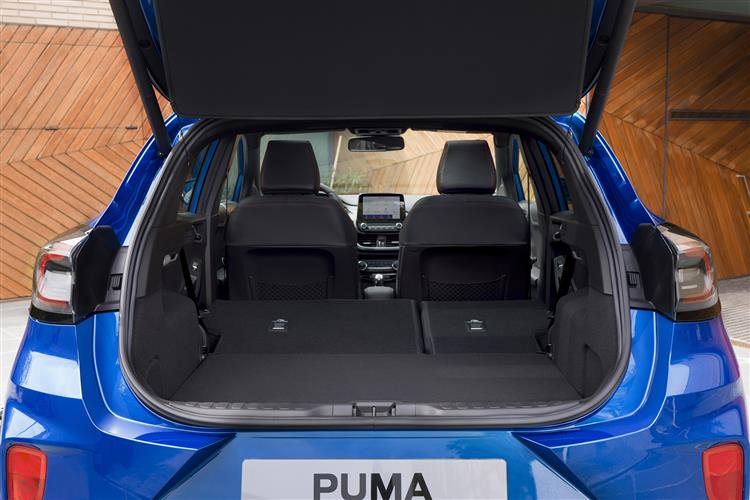 Typical with most Ford products in the market, the interior is what could only be described as basic but practical and user friendly. With the simple SYNC3 infotainment system and relatively smart materials, the Ford Puma offers all the latest technology as standard.  Additionally the entry model Titanium comes standard with the following key features – 17" 10-Spoke Alloy Wheels, SYNC 3 Navigation, Rear Parking Sensors, lumbar Massage Seats, selectable driver modes, Wireless Charging Pad, Cruise Control and much more. If you're not familiar the SYNC 3 Navigation technology includes the latest and much-loved Apple Car Play. Yes, that's right Apple Car Play as standard!
But what about the price?
Ford confirmed, they will be competitive when launching the Puma January 2020 and will take the market by storm with some fantastic rates available with alternative funding methods. After exploring the Ford Puma, we have not been disappointment and Ford have produced what we feel will be a huge contender within the Crossover and SUV market. Ford have certainly kept to their word, with regards to pricing. Don't take our word for it see for yourself – click here
Conclusion – Ford prove that Pumas can ROAR!
After 20 years of waiting for the relaunch of Ford's Puma model, the results are now in. We are not disappointed. Ford have commenced 2020 with a roaring head start. In brief the New Ford Puma offers:
 A more futuristic and current model, yet again.
 An alternative for Crossover, to rival the likes of Nissan Juke and Renault Captur
 A high level of specification as Standard
 Usable space and adaptable luggage compartments, for all occasions
 Mild Hybrid Technology
To go to our blog homepage – Click here